How to add a certificate to your LinkedIn profile
Have you successfully completed any of our courses or programs? It's time to show your newly acquired skills on your professional network and to the potential employers! You can add your certificate to your LinkedIn profile in these three easy steps.
Step 1:
Log in to your LinkedIn account and go to your profile.
Step 2:
Click on the drop-down menu "Add profile section" on the left side, select "Background" and then select "Licenses & Certifications":
Step 3:
Enter the following information:
Name: Enter the name of the course or program
Issuing Organization: Enter "Oxford Business and Management Institute"
Issue Date: Enter the issue date of your certificate
Select the "This credential does not expire" checkbox
Credential ID: Enter the ID found in the lower right corner of your certificate
Credential URL: Enter https://www.oxfordbizinstitute.com/verification
Your form should look like this example: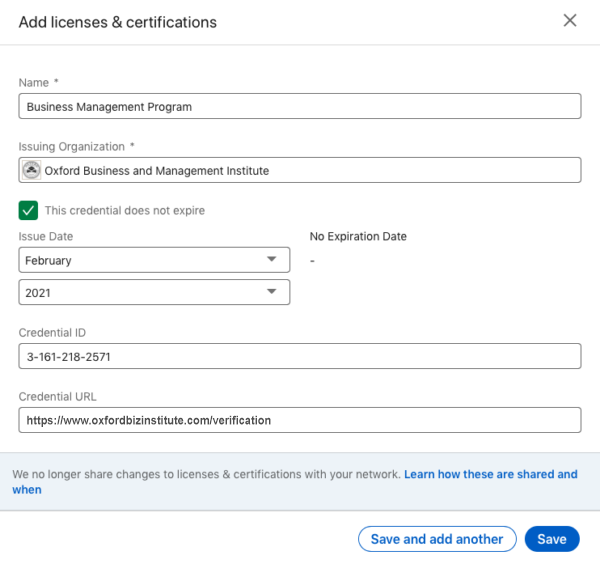 Now, your certificate will be a part of your LinkedIn profile (see example below):

Step 4
If you want to inform your social network about your success, you can also go to your LinkedIn feed and write a post about your experience at the Oxford Business and Management Institute. You will also find the option to upload a certificate by selecting the "Document" option when you write a new post.