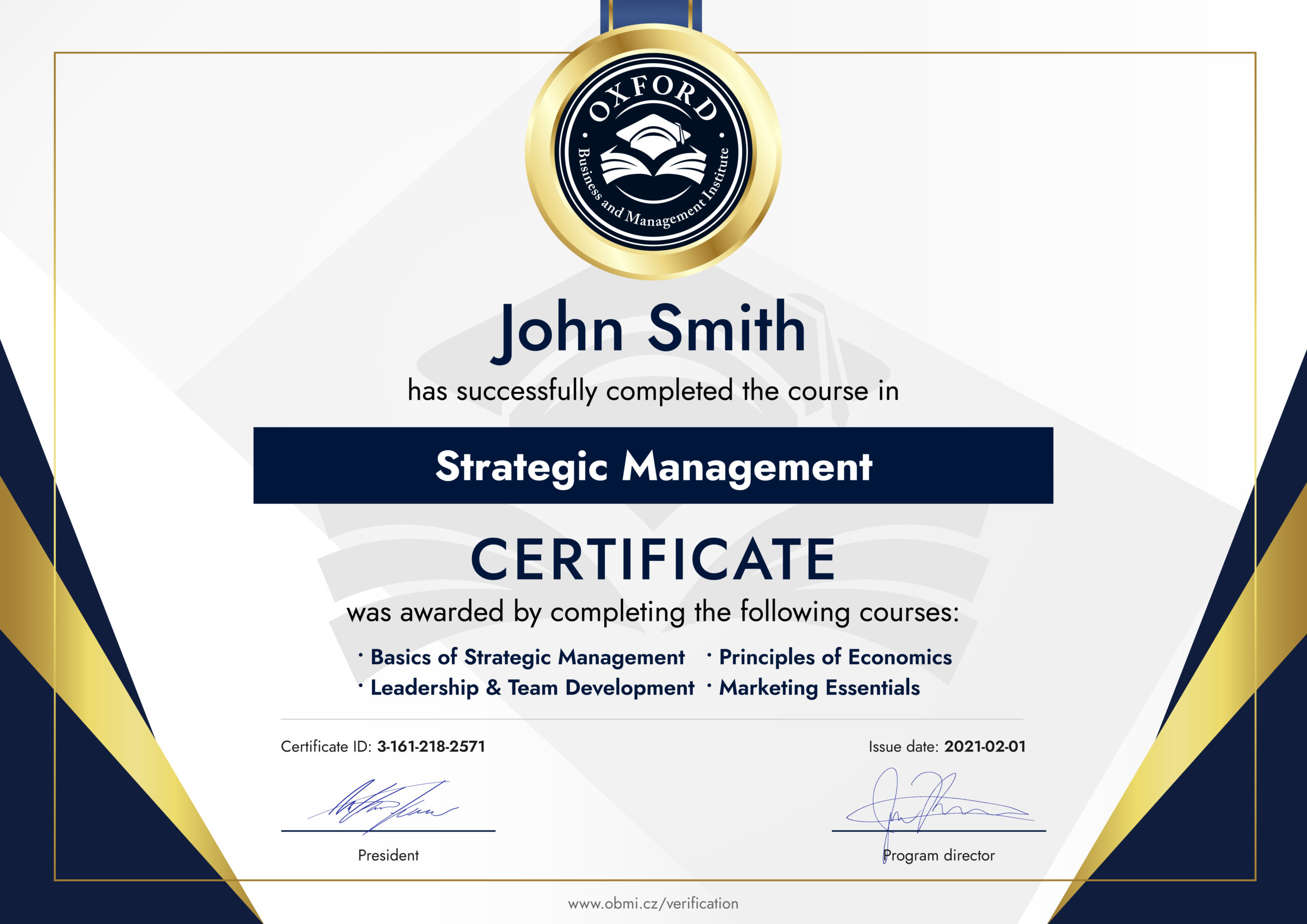 | | |
| --- | --- |
| Number of required courses: | 4 |
| Program duration: | 2h / course |
| Level: | Introductory |
| Price: | No additional costs |
| Access: | Unlocks automatically when the required courses are completed |
This program is focused on developing your strategic management skills. It is an accelerated online program that covers all the key areas of modern strategic management. This program is a fast and cost-effective way to achieve your next career goal and make your job profile stronger. It combines the most important aspects of traditional strategic management studies into four exciting and affordable online courses.
How to obtain this program certificate
You will receive this program certificate automatically after completing the four required courses (see courses down below). Just register for the individual courses and complete them according to your own schedule. Courses can be purchased individually and can be completed without a specific order. After you successfully complete all 4 courses, you will be able to download the program certificate at no additional charge. 
There are 4 courses in this program:
Frequently Asked Questions
How do I register for this program?
Just register for the individual courses that are a part of this program. After successfully completing all required courses, you will be able to download the program certificate here.
How much does this program cost?
To obtain the program certificate, you must take individual courses. The price is currently $21,90 per course.
Which certificate will I receive?
You will receive:
- course certificates of individual courses
- program certificate (after completing all required courses)
You will receive all certificates in digital form (pdf).
What is the value of a program certificate?
The Oxford Business and Management Institute keeps its distance learning programs to the same high standards as traditional educational institutions. This program certificate is therefore recognized and accepted by employers around the world. Please note that we don't award academic degrees. However, most organizations recognize our certificates as valid professional certificates.
This certificate will provide you the tools to excel in the project management. We strongly encourage you to share your program certificate on your LinkedIn account and continue to demonstrate your success and emphasize your knowledge.
Where can I find my program certificate?
After you have completed all the required courses, go to "My Account" > "My Programs". Here you can find and download your program certificates.